What are financial metrics?
The word metrics refers to measurement. Business people speak of software performance metrics, customer satisfaction metrics and financial metrics, for instance. The "measurement" in each case results from applying a given analysis (calculation) to data: SW performance data, customer satiisfaction data, or financial data.
Most people in business—even those who are not in finance or accounting—have heard of the term financial metrics and examples such as net cash flow, return on investment, or earnings per share.
Each financial metric says something unique about a body of financial data. In that way, financial metrics are like descriptive statistics: the statistical average (arithmetic mean), for example, represents the "typical" value in a data set. Similarly, each financial metric says something unique about a set of cash flow numbers or financial statement figures. The financial metric reveals some characteristic of the whole body of data that might not be apparent from simply reviewing individual financial figures.
The payback period cash flow metric, for instance, takes a series of cash inflows and outflows and measures the time it takes for investment returns to cover investment costs. The estimated payback periods of different potential investments can be compared, to help decide which alternative is the better investment. The wise investor, however, will also want to see other metrics for the same investment choices, as well, such as net present value (NPV), return on investment (ROI), and internal rate of return (IRR).
Most financial metrics used in business belong to one of two families:
Cash Flow Metrics
These include metrics such as net present value (NPV), return on Investment (ROI), and internal rate of return (IRR), used for evaluating investments and streams of cash flow events.
Financial Statement Metrics
These include metrics such as the current ratio, inventory turns, or earnings per share, for evaluating a company's financial position and financial performance.
For descriptions, example calculations, and interpretations of these metrics, see the encyclopedia entries listed below. Or, for more in depth descriptions of these metrics and their variants, along with working spreadsheet examples, see Financial Metrics Pro.
Contents
Cash flow metrics
Cash flow metrics describe the value of sets of cash flow events in various ways. They may apply to a single event (e.g., a cash inflow payment coming sometime in the future), or to a stream of cash flow events over time from an investment or action, such as those graphed in Exhibit 1: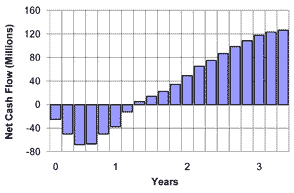 Exhibit 1. Several cash flow metrics are computed directly from net cash flow figures such as those grpahed here: Net Present Value NPV, Payback Period, and Internal Rate of Return IRR. However, The Return on Investment ROI metric requires instead the cash inflows and the cash outflows for each period. The cash flow profile above is known as an "investment curve," where net cash flow is predominantly negative in early periods and predominantly positive in later periods.
Cash flow metrics address questions like these:
A company expects a certain cash inflow five years from now. What is the value today of that future inflow? The present value metric provides one answer to that question.
An investor buys a bond, causing cash outflow from the investor's bank account. Years later, at maturity, the bond brings a cash inflow. How does a potential investor compare one investment possibility with another? The yield to maturity and return on investment metrics provide a basis for such comparisons.
A business case analyst projects a cash flow stream from an action, such as a five-year marketing campaign. The action will bring many cash inflows and outflows over the years, summarized with a net cash flow stream such as the figure above. Cash flow metrics such as net present value and internal rate of return help describe the cash flow value, for comparing to other actions.
Cash flow metrics are generally used for ...
Comparing different possible courses of action or investments.
Justifying a chosen action in financial terms.
Anticipating the financial consequences of an action for budgeting or planning purposes.
Cash flow metrics explained and illustrated in this encyclopedia include:
See the encyclopedias linked above, or for more in depth coverage and working examples, see Financial Metrics Pro.
Financial statement metrics
Financial statement metrics measure the strength of a company's financial position or the company's performance over certain time periods. These metrics use figures mostly from the company's financial accounting statements shown in Exhibit 2:
Exhibit 2. Financial statement metrics (sometimes called financial ratios) are computed primarily from figures in the Income Statement, Balance Sheet, Statement of Changes in Fiancial Position, and Statement of Retrained Earnings.
Financial statement metrics are generally used by…
Investors considering buying or selling stock or bonds in a company.
Company management, for identifying strengths, weaknesses, and target levels for business objectives.
Shareholders and boards of directors, for evaluating senior management.
Financial statement metrics in this encyclopedia are described and illustrated along with financial statements that provide data to derive them. Financial statement metrics are presented in six categories, according to the kinds of questions they address.
By Marty Schmidt. Copyright © 2004-2016.
Published by Solution Matrix Limited. Find us on Facebook Linkedin Google+