Practical In-Depth Guide
For decision makers, planners, analysts, and managers—all who master business case analyis.
When the competition gets serious for funding, for approval, or top-level support, you cannot win with back-of-the-envelope ROI figures or second-class off-the-shelf templates. When competition is serious, let Business Case Essentials be your guide.
In-depth guide to principle-based-case building.
Busines case role in forecasting, decision support, risk analysis..
Building the rationale and evidence for compelling business case proof.
Everything business professionals need to know about business case analysis
By Marty Schmidt, 3rd Edition 2021 Edition, ISBN 978-1-929500-14-7, Published by Solution Matrix Ltd. PDF ebook, 424 pages   US$ 64 .
Pre-publication price: $64.
Price after 30 September: $79. Order today and receive a complimentary copy of the 2nd Edition today. Your copy of the 3rd Edition ships 30 September.
The Classic 'How To" Guide
The latest edition of the Business Case Guide provides clear, practical answers to questions like these:
What is the first step in my case building project?
What does management want to see in my business case results?
how do I build in case credibility, accuracy, and practical value?
How do I prove that my recommendation is a good business decision?
Real World Business Demands a Real Business Case
The business case addresses questions like this: What happens if we take this or that action? The case answers in business terms: business costs, business benefits, and business risks. Decision makers and planners rely on solid business case analysis to building the understanding and confidence they need to take action.
Buyer Beware!
The internet today is awash with books, training, and templates promising to help you answer the "What happens?" question. Most merely suggest a few cost and revenue forecasts for your proposed action or investment. However, revenue and cost forecasts alone make a weak business case.
To achieve credibility, accuracy, and practical value in real-world business, however, the case must deliver clear answers to other questions as well: Is funding your proposal a good business decision? Will we really see these results? Can we expect significant non-financial impacts? And, which risks should we know about? Business case proof is compelling and defensible only when Case builders address all the questions.
Nevertheless, most case-building resources on the market are blind to this need and cannot produce credible answers for such questions. Case builder beware! In business today, real-world managers ask all the questions, and they expect answers they can trust.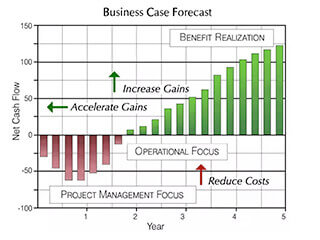 Uniquely Successful Approach
Our best-selling Business Case Guide, Business Case Essentials, and Business Case Templates guide case builders by the same principles of evidence and reasoning that bring decisive outcomes in the courtroom and the science lab. Our approach is unique and proven highly successful.
Astute professionals worldwide are meeting the full range of business case needs with the Business Case Guide.
Architecture Matters. Meet the 6D Framework
The Business Case Guide leads you step-by-step to professional quality business case results. Build your case in the 6D Business Case FrameworkTM, the proven structured approach.

The 6D structure helps you build and communicate the reasoning—the rationale—that makes your case. The 6D Framework serves, first, to define your case-building process. Each stage, however, leads to a completed case module with the same name. As a result, the 6D structure also describes your business case report. When the completed case structure mirrors process structure, case readers travel the same logical path the case builder has just traversed.
Proven Methods, Proven Benefits
The Guide is the authoritative resource for the 6D Framework, the same case-building approach we deliver to companies and organizations including ABB, BP, Cisco Systems, Ericsson, IBM, McDonald's, Microsoft, NASA, NSA, Royal Bank of Canada, US Department of Defense, SAP, and others. The Guide delivers proven benefits for case builders and their organizations.
Consistent principles and consistent structure from case to case means:
Less case-building time and effort, and more confidence in case results.
Easy communication between non-financial professials and financial specialist
Competing proposals are compared fairly and evaluated by the same measures.
Business and government accountability needs.
Fewer missed opportunities and costly mistakes.

About the Author
Marty Schmidt, President
Solution Matrix Ltd
Order Online and Download Today!
Order Securely
All orders process through PayPal, providing you with complete PayPal security, privacy, and Buyer Protection. Click Checkout on the Shopping Cart to pay by MasterCard, Visa, American Express, Discover, or PayPal account.
Order Easily
Receive your receipt immediately upon ordering. Receive product download instructions by email shortly afterward.
Full Customer Satisfaction Guarantees
Pre-publication price: $64.
Price after 30 September: $79. Order today and receive a complimentary copy of the 2nd Edition today. Your copy of the 3rd Edition ships on 30 September..
Privacy Policy • Terms of Service • Refunds
Master Analyst Packages
Download Today — Save 30%
Case Builder Package 420
Business Case Essentials, 5th Ed
Business Case Guide, 3rd Ed
Order Package 420, Save 30%. Download Today! US$ 89

Master Case Builder Package 490
Business Case Essentials, 5th Ed
Business Case Guide, 3rd Ed
Business Case Templates 2019
Financial Metrics Pro, 4th Ed
Financial Modeling Pro, 4th Ed
Order Package 490, Save 30%, Download Today! US$ 175

Project Manager Master Package 890
Project Progress Pro, 4th Ed
Business Case Essentials, 5th Ed
Business Case Guide, 3rd Ed
Business Case Templates 2019
Financial Metrics Pro, 4th Ed
Financial Modeling Pro, 4th Ed
Order Package 890, Save 30%, Download Today! US$ 195