Premier Professional Business Case Seminar
Join Us in Washington DC for the Next Master Class
Next Washington DC Offering: Wednesday-Friday 18-20 August 2021
Where: Hilton Springfield 6550 Loisdale Rd Springfield VA
Seminars also in New York City & London
Register for Washington DC now to guarantee your place in class!
Registration Fee: US$ 2,475
The Business Case is No Longer Optional
Businesspeople everywhere have a rapidly shrinking tolerance for management error. They also demand real accountability for decisions and plans. And, everywhere, the competition for scarce funds is increasing.
No surprise, many organisations now require business case support for project, product, investment, and capital acquisition proposals.
Businesspeople today with proven expertise in building cases and managing risk are rare and in high demand. They know they have the advantage over professional colleagues and competitors in project management, product management, asset management, finance, strategic planning, corporate governance—and the job search.
The Premier Professional Seminar
Join us at New York Times Square for the premier business case seminar "Business Case Master Class".
Master the Solution Matrix 6D Case Building FrameworkTM in three days of vital hands-on training. Learn to design, build, and deliver a professional quality business case. Know that your case will stand up to critical scrutiny from financial professionals, analysts, and skeptical managers.
Master Class participants join more than 18,000 professionals on six continents who have completed the premier business case seminar.
Enhance your resumé with in-demand skills and expertise!
Qualify for professional continuing education and certification credit!
Download case-building books and software as soon as you register!
Bring your current case-building project to class—leave with it 95% completed.
Maximum class size for each session is 24 participants.
Where You Learn Case Building Matters!
The business case addresses questions like this: "What happens if we take this or that action?" The case answers in business terms: business costs, business benefits, and business risks. Decision makers and planners rely on solid business case analysis for building the understanding and confidence they need to take action.
Buyer Beware!
The internet today is awash with books, training, and templates promising to help you answer the "What happens?" question. Most merely suggest a few cost and revenue forecasts for your proposed action or investment. However, revenue and cost forecasts alone make a weak business case.
To achieve credibility, accuracy, and practical value in real-world business, however, the case must deliver clear answers to other questions as well: Is funding your proposal a good business decision? Will we really see these results? Can we expect significant nonfinancial impacts? And, which risks should we know about? Business case proof is compelling and defensible only when Case builders address all the questions.
Nevertheless, most courses on business case analysis are blind to this need and cannot teach you how to answer such questions credibly. Case builder beware! In business today, real-world managers ask all the questions, and they expect answers they can trust.
Uniquely Successful Approach
In the Master Class Seminar you will learn and apply the same principles of evidence and reasoning that bring decisive proof in the courtroom and the science lab. Our approach is unique and proven highly successful.
Former participants worldwide report unmatched success meeting the full range of real-world business case information needs with the skills learned in the Business Case Master Class.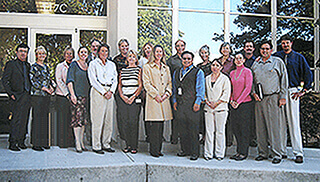 Join 18,000 successful professionals who have completed Solution Matrix Ltd seminars.
Business Case Master Class is ideal for
Project managers and PMO officers.
Product managers and product portfolio managers.
IT managers who receive service proposals or who request IT funding.
Financial officers responsible business case competency in their organisations.
Decision makers and planners at all levels.
Consultants and contractors working with government organisations.
Business and government professionals responsible for capital spending.
Sales professionals who "make the case" for sales proposals.
Marketers who communicate business value for their solutions.
Successful participants receive a certificate affirming completion of professional and university level business training.
Business Case Master Class is recognised and accredited by professional organisations in areas that include general management, business analysis, project management, product management, information technology, accounting, sales, marketing, and finance.
Small Classes, Customized Case Study Workshops
Maximum class size for each Master Ckass is 20 participants. This size ensures that everyone has essential instructor attention and discussion time while benefiting from the experience and needs of classmates from other sectors, industries, and government.
Solution Matrix seminars feature hands-on workshops with case-study examples that represent each participant's workplace. Many participants bring to the workshops real case projects they will deliver soon on the job.
Seminar classes fill quickly. Register early to ensure your place in class!
Participants in Solution Matrix seminars master the Solution Matrix 6D Framework. This framework is the same proven approach we have helped establish for companies and governments on six continents.
With the 6D Framework, participants Learn:
Which building blocks are essential for every business case.
The rationale that helps prove that a chosen action is the better business decision.
Key differences between a strong case and a weak case.
Special requirements for the government, military or non-profit case.
how to build in credibility as you build the case.
How to legitimise and value all business benefits—even the so-called "intangibles."
Financial metrics for business case results (NPV, ROI, IRR, and Payback Period).
Packaging and presenting case results for maximum impact.
Monte Carlo simulation for asking "What If?" questions, measuring risk, and reducing uncertainty in case results.
Master Class Seminar Leader
Dr. Marty J. Schmidt, President and Founder of Solution Matrix Ltd, leads the Master Class seminars. Dr Schmidt has twenty years business experience managing software development, international marketing, sales support, and management consulting on business issues. He is recognized internationally as an authority on cost/benefit analysis and business case development.
Dr Schmidt also taught graduate and undergraduate statistics at the University of New Hampshire, is the author of a college textbook on statistics and publishes often on professional management and business issues. He holds the Ph.D. degree from Purdue University and the M.B.A. from Babson College.
Seminar Fee

Business Case Master Class (3 days)
US$ 2,475

Register online with the link below to complete your enrollment and reserve your place in class.
Seminar Fee Includes
Business Case Master Class classroom training (3 days).
Course slides, demonstration software, templates and worksheets for practical exercises
Case-building books and software. Participants receive The Business Case Guide, Business Case Essentials, Financial Metrics Pro, Financial Modeling Pro, and the Business Case Templates package. Download your copies immediately when you register.
Professional Achievement Certificate by Solution Matrix Ltd.
Register for Washington DC Business Case Master Class
Next Washington DC Offering: Wednesday-Friday 18-20 August 2021
Where: Hilton Springfield 6550 Loisdale Rd Springfield VA
Seminars also in New York City & London
Register for Washington DC now to guarantee your place in class!
Registration Fee: US$ 2,475
Download Ebook and Software Resources Now!
Receive Your Ebooks and software when you register:
• Business Case Guide
• Business Case Essentials
• Financial Metrics Pro
• Financial Modeling Pro
• Business Case Templates
Bring the Business Case Master Class On site
In-house seminars are a cost-effective solution for organisations needing to equip 5 or more professionals with state-of-the-art business case skills. For more information, prices, current training clients, and a form to submit requesting a formal training proposal, please visit:
Successful branding is the reason that people automatically associate fashions by Georgio Armani with qualities of style, exclusiveness, and desirability. For the same reason, many believe that Energizer batteries are long-lasting or that owning a Harley Davidson motorcycle makes a statement about the owner's lifestyle. In business, branding serves to link positive attributes with products that carry the brand name.