Easy-to-Use System Delivers Professional Results
Sometimes a back-of-the-envelope ROI just won't do. Sometimes you need a real business Case!
Real-World business won't settle for anything less than a solid professional business case analysis (BCA). Rely on the Templates 2023 Package and…
Know that your case is complete and free of errors.
Know that your case stands up to critical scrutiny by the CFO, analysts, and skeptical managers.
Reduce your case-building time by 70% or more.
Deliver compelling bulletproof support for your proposals and plans.
2023 Edition, ISBN 978-1-929500-19-2, Published by Solution Matrix Ltd. Excel, Word, PowerPoint, PDF package   US$ 49
Sometimes You Need a Real Business Case!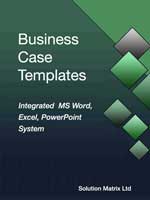 Create your case by completing the Word, Excel, and PowerPoint forms with information about your own environment. Your case report will forecast cash flows, measure business value, and give decision-makers and planners practical, actionable guidance. The Templates 2023 package is the only product of this kind available, designed specifically for creating case results that show in compelling terms that your recommendation is proof: that your proposal is the better business decision.
Templates 2023 get results because they focus above all on the reasoning and evidence that "make the case."
What's Expected in Your Case Results?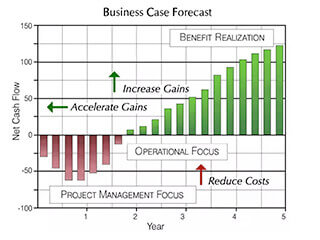 The BCA addresses questions like these
What happens if we take this, or that action? What happens if we take no action?
The case answers in business terms: business costs, business benefits, and business risks. Decision makers and planners rely on solid business case analysis for building the understanding and confidence they need to take action.
Buyer Beware!
The internet today is awash with books, training, and templates promising to help you answer the "What happens?" question. Most merely suggest a few cost and revenue forecasts for your proposal. Know that revenue and cost forecasts alone make a weak business case.
For credibility, accuracy, and practical value in the real world, the case must deliver clear answers to other questions as well:
Is funding your proposal a good business decision?
Will we really see these results?
Can we expect significant nonfinancial impacts?
How does the proposal compare with other possible actions?
Which risks should we know about?
Business case proof is compelling and defensible only when Case builders address all the questions. Real-world managers ask all the questions and they expect answers they can trust.
Scenarios Make Your Case
Prepare for questions like these with professional quality case results that deliver two kinds of information:
Trustworthy forecasts of future cash inflows, outflows, and risks.
Solid evidence and a compelling rationale showing why your proposal is the better business decision.
The Business Case Templates 2023 system guides you step-by-step to professional quality business case scenarios with trustworthy cash flow and risk forecasts. Templates 2023 also shows you how to compare scenarios, to support your recommendation by the same rules of evidence and reasoning that bring decisive proof in the courtroom and the science lab.
Supporting your proposal with second-class off-the-shelf-templates is risky. Rely instead on the proven Templates 2023 System and finish ahead of the also-rans.
Design, Build, Deliver the Winning Case
Writing the Case Report
MS-Word Templates set up your business case report with a comprehensive outline and section headings. Abundant example text and practical advice throughout help you create professional quality content.
Writing the report is straightforward. Just select and replace the blue example narrative with similar text describing your own case.
Begin your case-building project with the case report framework already in place. for your case report in place. MS Word templates provide report headings and example text while MS Excel templates set up the financial model at the heart of your case.
Complete your case with these steps:
Choose a Word report template and modify example narrative with text that describes your own case subject, purpose, and business environment.
Select an Excel template as the basis for your financial model. Follow User Guide instructions to complete the model for your case.
Follow User Guide instructions to analyze your projected case results.
Who Uses Business Case Templates 2023?
Case building is no longer a job for Finance in the back office. Case-building responsibility today rests squarely on professionals in the business unit who make proposals and take action. First-time case builders may little or no experience in finance or business planning, but still must deliver a professional quality case in a short time.
The Templates 2023 package is the ideal case-building solution for project managers, product managers, consultants, strategists, product managers, line managers, IT directors—everyone who builds the business case.
All Cases Covered
Astute professionals worldwide are meeting the full range of real-world business case information needs with Templates 2023. With the 6D Framework, expect success wherever decision-makers rely on business case support for:
Project Proposals
Program Proposals
Funding Proposals
Product Proposals
Capital Acquisitions
Strategic Planning
Alliances
Training Proposals
Marketing Initiatives
Sales Proposals
Green Actions
Lease vs. Buy
Reducing Risk
Outsource Decisions
Emergency Funding
Vendor Selection
lT Support
IT Upgrades

What's in the Package?
Download the Templates 2023 package today! The package includes:
Four MS Word Template files (.dotx files). Word templates in two forms, with and without onscreen guidance. The package has versions for printing A4 size pages and Letter size pages.
Four MS Excel Template files (.xltx files). You can quickly adapt the 5-year model for more extensive periods.
One MS PowerPoint Template file (.potx file). A template file with 24 slides to present a business case with the structure and content of Word Template. Replace the guide text and examples on each slide with your case.
Templates Users Guide document (PDF format).
"What's a Business Case?" document (PDF format).
Example completed report (MS Word docx file) and its financial model (MS Excel .xlsx file).
Templates 2023 work best with Microsoft Office products. The Templates are designed for all devices that run Microsoft Office, including Apple Macintosh and Microsoft Windows computers.
Order Online, Download Today!
Order Easily
Receive your receipt from Solution Matrix Ltd and PayPal immediately upon ordering. Receive product download instructions by email shortly afterward.
Privacy Policy • Terms of Service • Refunds
Case Builder Package 340
Business Case Templates 2023
Business Case Essentials, 4th Ed
Financial Modeling Pro, 4th Ed
Order Package 340, Save 30%, Download Today! US$ 99
Master Case Builder Package 490
Business Case Essentials, 5th Ed
Business Case Guide, 3rd Ed
Business Case Templates 2023
Financial Metrics Pro, 4th Ed
Financial Modeling Pro, 4th Ed
Order Package 490, Save 30%, Download Today! US$ 175