Deliver the Winning Case
Your business case must score high in credibility, accuracy, practical value.
Reaching these objectives begins by understanding that numbers alone do not make the case. How you design, develop, and deliver the case are as crucial as the return on investment ROI and other figures you project. Welcome to the Business Case Analysis!
Find here the proven advice, world-class tools, and easy-to-use templates for forecasting business outcomes and building the rationale that makes your case.
Sometimes You Need a Real Business Case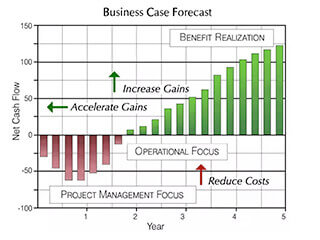 Business people speak often about business case analysis (BCA), but surprisingly few really know what that means. Many who use the term do not know how case reasoning works, or how to make case results compelling. As a result, those with a solid grasp of business case principles have the advantage.
Decision makers in real-world business look for two kinds of information in BCA results. They expect to find:
Forecasts
The case asks: What happens if we take this action, or that action? The case answers by forecasting business costs, benefits, and risks.
Proof
Reasoning and evidence make the case for choosing one action over another. Case results are convincing proof that the chosen action is the better business decision.
Decision makers and planners rely on solid BCA to build the understanding and confidence they need to take action. They need credible forecasts, but they also need trustworthy proof they are choosing the best course of action.
Case Builder Beware!
The internet today is awash with books, training, and templates promising to help you answer the "What happens?" question. Most simply provide a few cost and revenue forecasts for your proposed action or investment. Know that forecasts alone are not a BCA!
To achieve credibility, accuracy, and practical value in real-world business, your case must deliver clear answers to other questions as well: Is funding your proposal a good business decision? Will we really see these results? Can we count on significant nonfinancial impacts? Which risks should we know about? Business case proof is compelling and defensible only when case builders address all the questions.
Nevertheless, most of the templates and case-building resources available are blind to this need and cannot answer credibly. Case builder beware! In business today, real-world managers ask all the questions, and they expect answers they can trust.
20 Years Proven Success: The 6D Framework
Meet here the The Solution Matrix 6D Framework™, the secret behind 20 years of customer success with our best-selling ebooks, templates, and apps. Astute professionals worldwide are meeting the full range of real-world analysis needs with 6D resources.


When Must You Deliver a Business Case?
Businesspeople everywhere are finding that business case results are now mandatory for decision support and planning throughout the organization. BCA questions are center stage strategic planning, project management, asset lifecycle management, capital spending, product management, sales, marketing, and IT support.
You know you need serious case results when you face questions like these:
How long before a new ERP system pays for itself?
How do we structure our our capital review process?
Do all partners in the alliance earn acceptable margins? Do they share business risks and rewards equally?
How do we show that we did due diligence before acting? How do we prove we met regulations and followed policy?
How Do You Build a Business Case?
You may be facing such questions for the first time and have little or no background in finance and planning. Or, you may have extensive experience in these areas, yet still need to get up to speed on what belongs in your business case, how to write the case, and how to "make" the case with a better presentation.
For your case-building needs, either way, Solution Matrix Limited offers industry-leading solutions:
Download BCA Books, Templates, Apps
Step-by-step guidance and time-saving resources including the best selling books, Business Case Essentials and The Business Case Guide, professional-grade templates and spreadsheet software to guide you through the financial math.
Join the Master Class Professional Seminar
Take command of the 6D Case-Building Framework™ in a Master Class. Earn professional credit while you design and build your case:
Team With the Premier BCA Consultants
For those with immediate decision support and planning needs, we offer the 6D Solution. 6D case-building projects deliver the highest quality results in the shortest possible time.
For those who need winning case results, now, the 6D project is the fast, cost-effective solution that works. Let us hear from you! We look forward to discussing your case-building plans.